Sponsors

One of the best ways to increase your presence on social media sites such as Facebook or Twitter is to actively encourage users to share your content. Guitar Shares is a program where members are actually rewarded for sharing your posts.

As a Guitar Shares Sponsor you get to post a new article every day that is distributed exclusively to our network of guitar players who in turn distribute your message to their networks.

You also have the ability to add up to 5 Reward Share offers to motivate members to share your messages. Common Reward Share offers include product discounts, promotional items and merchandise rebates.

Everything is tracked through your own login screen; you will see how many members are actively sharing your posts, how many unique readers each post receives and what Reward Share offers are being added to wish lists.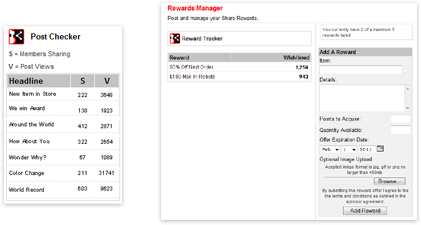 The best part of this program is that it's absolutely free to qualified sponsors.


To qualify as a Guitar Shares Sponsor you must be an active musical instrument manufacturer, distributor, wholesaler or retailer or recognized music industry publication, trade organization or association.